V&A Dundee construction to begin after contract agreed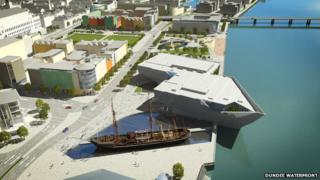 Dundee City Council has signed an £80m contract for the construction of the V&A Dundee museum.
BAM Construction Ltd will start building work on the design museum at the city's waterfront next month.
It was revealed in January that the project's price tag had almost doubled from an original £45m amid lengthy delays.
If work proceeds on schedule, the museum could be complete by the end of 2017, and ready to open by June 2018.
V&A Dundee director Philip Long said it was "a thrilling moment" in the development process.
He said: "It's very important to acknowledge all the work done and contributions made over the last years and months that have led to the signing of this contract.
"As a result, everybody will soon be able to see work begin on the construction of this major new museum at the heart of Dundee's waterfront."
Doug Keillor, Regional Director of BAM Construction in Scotland said: "This is the most unique construction project that my team have ever been involved in, both in architectural vision and in the way it will be built.
"It's challenging, but in a good way. Watching it take shape over the next few years using a combination of local, national and international expertise, will be very satisfying."
City council leader Ken Guild said he was "delighted" that work on the "world-class museum" would soon begin.
He said: "This project will help to attract further investment into the city and we are already experiencing unprecedented levels of investor interest in Dundee.
"Construction of V&A Dundee will give our economy a significant boost and help to create hundreds of jobs. The building project itself will also bring considerable attention to Dundee."
Councillors agreed last month to let city development director Mike Galloway and chief executive David Martin agree a contract worth £80.11m with BAM Construction.
Concerns had been raised after it emerged the project was running several years late and more than £30m over budget in January, and culture secretary Fiona Hyslop admitted she had been made aware of the issues months before they were made public.
The Scottish government, city council and Heritage Lottery Fund all committed extra funds to cover the budget gap.
An independent investigation into the progress of the project is being chaired by former Rangers football club chairman John McClelland, while there have also been calls for a government inquiry.