Bannockburn visitor centre celebrates first anniversary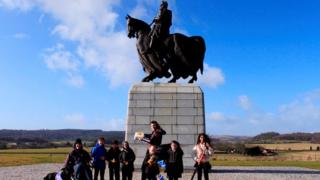 The Battle of Bannockburn visitor centre has welcomed 65,000 visitors in its first year of operation.
The centre was opened one year ago this weekend, ahead of the 700th anniversary of the historic battle.
Built with £5m of government funding and £4.1m from the Heritage Lottery Fund, the centre features interactive exhibits using 3D technology.
The previous centre, which dated back to the 1960s, averaged about 25,000 visitors a year.
The National Trust for Scotland facility hosted the Bannockburn Live event last summer, which marked 700 years on from the 1314 conflict with a series of huge re-enactments featuring hundreds of actors.
The centre uses motion capture technology similar to that used in Hollywood to create realistic 3D medieval battles, and has won several awards recognising visitor attractions.
Centre manager Scott McMaster said: "2014 was a huge year for Bannockburn - we threw open the doors of this brand new experience, we played our part in marking the 700th anniversary of this significant battle, and we've taken our fair share of victories in awards ceremonies.
"We have been blown away by the response to the new facilities here and look forward to sharing this site and its amazing story with many more visitors throughout 2015 and beyond."
The anniversary was marked by pupils from Borestone Primary School and nearby residents, who served up cake to mark the occasion.
The Battle of Bannockburn was fought on 23 and 24 June 1314, when Robert the Bruce led an outnumbered Scottish force to victory over the armies of Edward II, who was trying to lift the siege of Stirling Castle.