Protest over plans to cut school pupil hours in Falkirk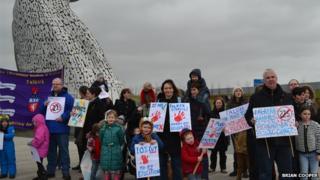 About 200 teachers, parents and children have taken part in a demonstration in Falkirk to protest at plans to cut the primary school week.
Councillors want to reduce pupil hours by 10% from 25 to 22.5.
The plan is one of more than 100 possible savings which have been put forward in a bid to close a £40m budget gap.
They include bringing in new parking charges and cutting bus subsidies.
Parent Paul Riley, who organised the protest, said: "I am delighted with the success of today's demonstration which will hopefully deliver the message that the parents of Falkirk will not allow our children's education to be put at risk."
Fellow campaigner Caroline Gourlay added: "These cuts will impact children across Falkirk from the crucial early years onwards and disproportionately impact the most vulnerable children.
"We urge Falkirk Council to reconsider and give our children the best possible start in life."
Previous success
Teachers' union the EIS have said the idea that children's education would be unaffected by a 10% cut in class time is "absurd".
Ahead of the protest at Falkirk's Helix Park, general secretary Larry Flanagan said: "This cut amounts to a loss of teaching and learning time equivalent to 19 days per session - or almost seven months of education lost over a child's primary life."
Mr Flanagan added: "We will work tirelessly with parents and local campaign groups to challenge these proposals, as we have previously done successfully in Renfrewshire and West Dunbartonshire, until Falkirk Council calls a halt to the 10% cut in the primary week."
A spokeswoman for Falkirk Council said no final decision had been made on whether to cut school hours.
She said: "Any potential reduction to the current primary school week from 25 to 22.5 hours would not be implemented until 2016/17 and further consultation would be carried out before any change was made.
"The leader of the council made it clear at the budget meeting that if savings can be obtained from elsewhere then this proposal would be dropped and the council has written to parents to confirm this."