Dundee Rep play to champion disabled and deaf actors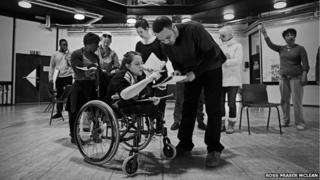 A play featuring a number of disabled actors is set to take to the stage in Dundee.
Thousands of pounds has been spent improving disabled access at the city's Rep Theatre for the new production of Blood Wedding.
The cast includes deaf actors and wheelchair users, and is backed by the Graeae Theatre Company, which promotes the work of disabled thespians.
Blood Wedding runs at the Dundee Rep until 14 March.
The contemporary re-imagining of Spanish dramatist Federico Garcia Lorca's tragedy tells a story of young love, rebellion and revenge.
The production by Dundee Rep Ensemble, Graeae and Derby Theatre, written by David Ireland, features a mix of disabled and non-disabled actors, and has subtitles projected on the backdrop for any members unfamiliar with sign language as well as audio descriptions.
Director Jenny Sealey, of the Graeae Theatre, is herself deaf. Her previous work includes co-directing the London 2012 Paralympic Games opening ceremony.
She said she was inspired to get involved in the production after being told that Lorca had never intended for his story to be told by deaf and disabled actors.
"Graeae, Dundee Rep and Derby Theatre beg to differ, and challenge that statement with our adaption, placing a glorious diversity of people centre stage, all of whom have a right to be there to claim their stake in the narrative," she said.
While an investment had to be made to make the Dundee theatre accessible for disabled actors, the director believes the biggest obstacles standing in their way are not physical.
She said: "The physical access is crucial but the biggest barrier in theatre is attitude.
"It's 2015 now and there's sometimes that attitude that we don't have the right to be on stage, and I think, yes we do.
"We are part of society, and we come with the richness of experience of having had to smash through barriers."
A total of £12,000 has been spent upgrading the 30-year-old venue, creating a new doorway onto the stage and creating better disabled access.
Nils den Hertog, head of production at the theatre, said the modifications had been a challenge, but would help with all future productions.
He said: "We had to create a larger entrance to the stage from the dressing room corridor.
"In the past when we've worked with disabled actors they had to be on stage before the audience came in. With this being such a big production that wouldn't work.
"There are quite a few theatre companies touring around the country and this will help access for all of them. It's a win/win situation for everybody."
Amy Conachan plays the Bride in Blood Wedding, and she said opportunities for fellow disabled actors are getting better.
She said: "I feel like it's definitely improving.
"So far the parts I've played have been written disabled, but there is more opportunity for disabled actors with companies like Graeae.
"It could be better, you could have disabled actors cast more in non-disabled parts, but I haven't found so far that it's a major distress to me. I kind of feel I've been more in demand because of it."
The play runs at Dundee Rep until March 14, and then travels to Derby Theatre, the Beacon Arts Centre in Greenock, Edinburgh's Traverse Theatre, New Wolsey Theatre in Ipswich and the Everyman Playhouse in Liverpool.