Mystery of Robert the Bruce carving solved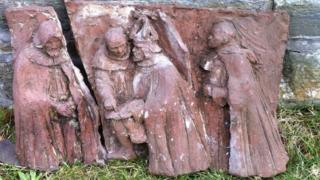 The mystery of a carving of Robert the Bruce reading the Declaration of Arbroath has been solved.
Resident of East Haven in Angus, where the carving was found, initially thought it could be a historical artefact.
However, it has emerged that it was actually made as part of a college project in the 1960s.
A local man made the carving at Dundee College, before later moving to Spain.
The terracotta sculpture depicts Robert the Bruce reading the 1320 declaration, signed at nearby Arbroath Abbey.
Wendy Murray, of the East Haven Resident's Association, had appealed for information after her husband discovered the carving while clearing up a piece of land in the village formerly used by fishermen.