Dog found beaten to death in canal near Falkirk Wheel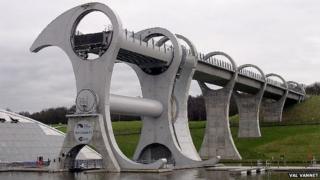 An investigation has been launched after the body of a dog which had been beaten to death was found in a canal.
The Scottish SPCA was called in after British Waterways staff at the Falkirk Wheel made the discovery on Monday.
The black and white male terrier had suffered a severely fractured skull and broken ribs and officers said it had gone through "prolonged suffering" in a "horrifically cruel and brutal attack".
CCTV is being reviewed and officers have appealed for information.
A post-mortem examination concluded that the dog had died as a result of head trauma some time in the last week to 10 days and had its ribs broken with such force there was blood in its lung cavities.
Insp Leanne McPake said it was suspected the injuries were inflicted with a hammer or via a forceful kick.
'Horrifically cruel'
She said: "We know the dog was alive for several minutes after being struck, meaning his suffering was prolonged. His dead body was then callously dumped in the water.
"We would appeal to anyone who knows of someone who owned a dog matching the description or has any other information to contact us.
"The dog was a small un-neutered black and white male terrier type. He was wearing a very thin leather collar and it is thought he was a young adult.
"We believe this barbaric attack happened within the last seven to 10 days. We are very keen to find whoever is responsible for carrying out this horrifically cruel and brutal attack on a defenceless dog."