Fire crews rescue dog after 130ft fall down Alva ravine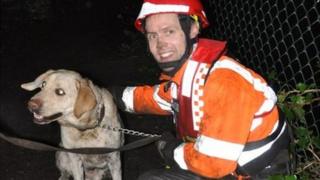 Firefighters were called in to rescue a dog which fell 40m (130ft) down an embankment into a ravine in Clackmannanshire.
Maxwell the Labrador fell into the ravine near Rhodders Farm, Alva, while out for a walk on Saturday afternoon.
The technical rope rescue team from Falkirk fire station was called in, and used lines and a harness to climb down the steep embankment to the dog.
After being lifted clear, the uninjured dog was reunited with his owners.
Station manager Mark Bryce thanked the team for their efforts in safely resolving the incident.
He said: "After assessing the situation, crews decided the safest way to get Maxwell to safety was to deploy the rope rescue team.
"Using lines and a harness, firefighters made their way down the embankment and managed to lift Maxwell to safety."