Scots firm Stagecoach to invest £80m in 470 new buses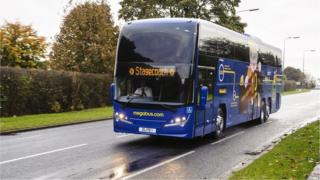 Scottish transport firm Stagecoach is to invest more than £80m in a fleet of new buses for its routes across the UK and Europe.
The Perth-based coach company has commissioned almost 470 new vehicles, most of which will be built in Britain, for its regional and Megabus services.
All of the new buses will come fitted with CCTV, and many will feature free wi-fi access.
The first of the new Stagecoach vehicles will be delivered this spring.
More than £75m is to be spent on 412 buses for the firm's local networks in England, Scotland and Wales.
The company is also expanding its Megabus service in the UK and mainland Europe, with £6.9m spent on 22 new coaches, while a further 34 coaches are to be built for the Stagecoach Express operation.
Reinvesting profits
Stagecoach Group chief executive Martin Griffiths said building the buses in Britain would boost the country's manufacturing sector, including smaller supply-chain businesses producing components such as drivers seats and wheelchair lifts.
He said: "This new investment is all about delivering better bus and coach journeys for our passengers.
"We have a strong track record of investment over many years that has attracted growing numbers of people back on board the bus. We believe strongly in reinvesting our profits to continue that growth and our sector-leading levels of customer satisfaction.
"Buses are central to our communities, giving people a greener way to access work, health, education and leisure.
"They are also critical to our economy. I'm delighted that most of our new buses will be built right here in the UK, helping support British manufacturing and hundreds of jobs in the supply chain."
The orders will mean the firm's entire single-decker fleet will meet the UK Disability Discrimination Act deadline set for later this year. All of the new vehicles will also meet the highest European Union emissions standards.