Brothers behind wartime letter found at Blair Castle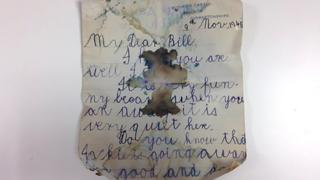 A letter dating from 1945 found behind a radiator at Blair Castle was written from one brother to another, it has been revealed.
Staff at the castle set out to track down the wartime pen pals after discovering the 70-year-old letter during a winter clean-up.
Following an appeal on BBC Radio Scotland, the correspondence was traced to brothers Bill and Archie Findlay.
Bill Findlay's school had been evacuated to the castle during the war.
Staff at the Perthshire castle set out to discover who Bill and Archie were after finding the letter.
Their niece Emma Scott heard the appeal and immediately got in touch with the castle to reveal the background to the tale.
Pupils from the West Downs boarding school in Winchester, including Bill, were sent to the castle between 1942 and 1946 for safety during the war.
The short letter he received in 1945 was penned by his brother Archie - under the orders of his mother - from the family home at Boturich Castle in Balloch.
It was found 70 years later down the back of the a radiator in the Grand Ballroom at the Perthshire castle, along with mementoes including cigarette cards and dominoes.
Bill, now aged 82, said it was "amazing" that the letter had been found.
He said: "I'm just so tickled you've found it after all this time.
"We used to sit on the window ledges in the Grand Ballroom and it's entirely possible that I dropped it down the back of the radiator, but it was such a long time ago.
"I had a tremendous time living at Blair Castle, and I have such dear memories of those years. It was a real adventure."
His brother Archie, who was aged seven at the time he wrote the letter, said its discovery had "brought back memories".
The 77-year-old said: "I was told to write that letter by my mother. I'm so amused it's been found so many years on, who'd have thought."
Stuart Letford, market and communications manager at the castle, said it was "truly amazing" that the pair had been tracked down within a day of the appeal being launched.
He said: "It is incredible to think that Archie's letter to Bill has been lying hidden for such a long, long time and yet we were able to find them within 24 hours of the news getting out.
"We've agreed with Bill and Archie that their letter and keepsakes will be put on display to the public at the castle and we have invited them up at a time that is convenient for them to see their correspondence again.
"It's 70 years since the end of the Second World War this year, so it seems fitting that we commemorate this with Bill and Archie's story - yet another remarkable tale to add to our 700 years of history."