Dundee-based Muirfield Contracts building firm in administration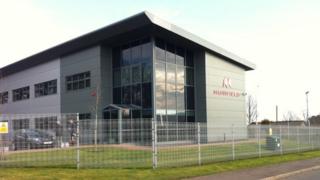 A leading Dundee construction firm has gone into administration.
Administrators from Campbell Dallas warned that "a significant number" of redundancies are likely at Muirfield Contracts.
The firm, which has 280 staff mainly in Dundee and Aberdeen, was bought out by Azure Investments in 2013.
Joint administrators Derek Forsyth and David Hunter said the company had suffered from "unsustainable cash flow problems" despite a turnover of £47m.
Founded in 1988, Muirfield undertook a wide range of building and construction work for private and public clients, including Angus Council's Forfar headquarters and the renovation of Dundee's McManus Galleries, and had been working on the refurbishment of Dundee publisher DC Thomson's Meadowside headquarters.
Staff were sent home earlier this week by the firm, which had been engaged on about 20 contracts.
'Difficult time'
Mr Forsyth said: "Muirfield Contracts is a household name in Scotland's construction sector with an excellent reputation for the quality of its client base and projects.
"Although the company has a large turnover, it had been suffering from unsustainable cash flow problems and despite best efforts to raise additional funding administration was the only option.
"It is likely that a significant number of employees will be made redundant in the early stages of the administration and they will be advised as soon as possible.
"We recognise that this is a very difficult time for all concerned and will do our utmost to provide as much support as we can."