Hundreds of staff let go as Muirfield Contracts wound down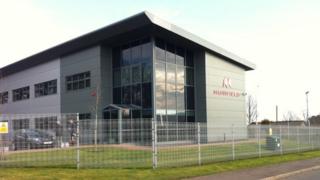 A Dundee building firm which went into administration is being wound down at the cost of hundreds of jobs.
Muirfield Contracts called in administrators earlier this week after sending staff home amid "unsustainable" cash flow issues.
Administrators Campbell Dallas LLP have made 258 staff redundant, and a further 110 previously engaged sub-contractors have also lost work.
A core staff of 25 is to be kept on to help wind down the firm's affairs.
Muirfield, which has offices in Dundee and Aberdeen, had worked on a number of major projects in recent years.
Administrators Derek Forsyth and David Hunter of Campbell Dallas were appointed on Thursday after the firm suspended trading.
They said the company had "effectively ceased trading" before they arrived, and said they would work with all relevant agencies and trade unions to support the redundant workers.
'Unsustainable'
Mr Forsyth said: "We were not in a position to recommence trading, and had no other option than to begin an orderly wind-down of the business.
"We have written to all employees affected by redundancy and letters to the labour-only sub-contractors are currently being issued.
"Unfortunately the business had effectively ceased trading prior to our appointment and its position was untenable and unsustainable.
"We will now focus on the wind-down process and will look to realise as much value as possible from the contracts and sales of any physical assets such as property, plant and vehicles. We would encourage interested parties to make contact with us as soon as possible."
Business Minister Fergus Ewing said the Scottish government had taken "immediate action to provide assistance to any affected employees".
He added: "We have arranged a redundancy support event next Tuesday in Dundee College through our initiative for responding to redundancy situations, Partnership Action for Continuing Employment (PACE).
"Through providing skills development and employability support, PACE aims to minimise the time people affected by redundancy are out of work."