Giraffe dental work is a tall order for Blair Drummond vets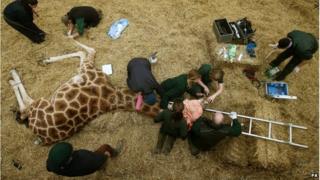 A team of safari park vets had a big job on their hands when a 14-year-old giraffe who was struggling to chew her food needed dental work.
The Blair Drummond vets gave Kelly a general anaesthetic to allow them to have a look inside her mouth to check her teeth.
A team of 12 vets and staff, including surgeon Ian Rodger, worked on the animal at the park near Stirling.
She was constantly monitored throughout the 30-minute procedure.
Using a ladder and bales of straw to prop up Kelly's long neck, Mr Rodger was able to look in her mouth where he found food being caught in a gap.
He said: "I did expect to find some changes in the mouth. I actually found a wee bit less than what I was expecting but, that said, there could still be significant sources of pain and discomfort.
"Food was becoming trapped in the gap between the teeth. The right name for that is a diastema and there were two on the lower left jaw, and I picked and cleaned and flushed them out and explored the depth of them."
A decision was made to take X-rays of Kelly's mouth to look more closely at whether further drilling work would be required to widen the gap to avoid food continuing to be trapped there.
Mr Rodger said: "Although the changes don't look enormous to my eye - I've certainly seen worse changes than that in horses' mouths many times - gum inflammation or gum recession is a noted source of pain in an animal's mouth, so that may well be the primary source of the problem.
"We don't undertake general anaesthesia in a giraffe lightly but this is a problem that's been working away for a wee while now and we felt we had no choice but to explore the mouth, and hopefully based on that and based on the X-ray, we can make some decisions as to how to put a treatment programme in place."
Staff at the safari park, which opens for the season on Saturday, monitored Kelly throughout Tuesday before she was slowly mixed back together with the other giraffes.