Further appeal over indecent attack on teen in Dundee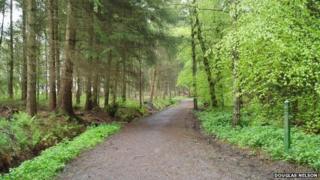 Police have issued a further appeal over a sexual assault on a 13-year-old boy in Dundee's Templeton Woods.
The boy was cycling in the woods on Monday at about 17:00 when he was attacked by a man.
Officers are keen to trace the drivers of a blue car, a red car and a small white van which were parked at the woods visitor centre near the time.
They have also appealed to find a dog walker believed to be a witness and anyone else who was in the area.
The boy was cycling on the green trail near the Ranger station between 17:00 and 17:30 when he was approached and indecently assaulted by a man.
The suspect is described as being 5ft 2in (1.57m) tall, of medium to large build, with white or grey hair which was balding. He was wearing a beige jacket with collar and pockets, blue jeans, a red jumper and brown dress shoes.
Officers are searching for a dog walker who is thought to have witnessed the incident, and who spoke to the boy in the aftermath of the assault. He was walking a black and white bulldog terrier-type dog and was in his thirties.
Detectives would also like to speak to all joggers who were running in the woods and youths who were at the BMX track between 16:30 and 18:00 that day.