Dundee University staff to go on strike over job cuts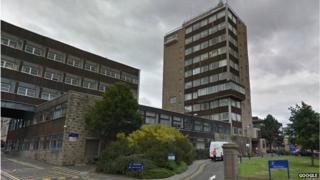 Staff at Dundee University are to go on strike over redundancy plans at the university.
Members of the University and College Union will take action on 28 April and 5 May as part of an ongoing dispute over proposals to cut jobs.
The university aims to cut between 80 and 120 posts to make up a budget deficit caused in part by research funding cuts.
A spokesman said the university was "disappointed" by the strike.
A voluntary severance scheme has been launched in the School of Medicine and College of Arts and Social Sciences aimed at reducing staff there by 35, towards a total target of 120.
In parallel, a voluntary scheme was launched in January aimed at cutting 50 support staff.
The spokesman said the university, which employs about 3,200 staff in total, faced "a difficult financial situation".
He said: "Only last month we received notice that our research funding from the Scottish Funding Council was being reduced by over £1m, despite some excellent results for Dundee in the 2014 Research Excellent Framework.
"In addition, our costs in relation to our income are currently higher than other comparable institutions across the sector. The university therefore set a deficit budget of £2.7m or the year 2014-15, which represents around 1% of turnover."
'No option'
Union members are refusing to take part in the redundancy process, which they say is flawed, and are also to walk out on two consecutive Tuesdays.
Dundee UCU president Ian Ellis said going on strike was "the last resort".
He said: "We have tried talking to the university senior managers but their refusal to engage constructively has left us with no other option.
"Taking strike action affects the students here in Dundee, but we know that their education and those of students in the future will be hit hard if the university is downsized in this way.
"The truth is that you can't lose 120 academic staff without students ending up in bigger classes and harming Dundee's academic reputation."
'Pressing issues'
The university could resort to redundancies if the voluntary schemes fail to achieve sufficient savings.
The spokesman said: "We are absolutely committed to achieving these reductions and associated cost savings through voluntary means and other measures such as non-filling of vacated posts.
"However, we may have to look at redundancies if the necessary savings are not reached.
"We are disappointed in the move by UCU towards industrial action. This will do nothing to resolve the pressing issues which the university faces."