Virtual reality tour of Angus aims to drum up tourism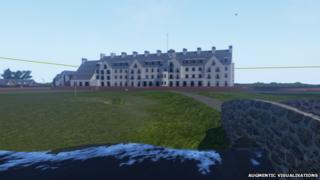 A virtual reality tour of Angus has been created in a bid to drum up tourism for the region.
Angus Council's Visit Angus team have unveiled the technology at the VisitScotland expo in Aberdeen.
Dundee firm Augmentic Visualisations has created a 3D tour of local landmarks including Arbroath Abbey, the Angus Glens and Glamis Castle.
It is hoped the software could be used by travel agents and tour operators around the world to promote the region.
The tour is conducted through the Oculus Rift virtual reality headset, giving users a flying trip over the Carnoustie championship golf course and around the Angus Glens.
Ritchie Duncan, managing director at Augmentic Visualisations, said: "This technology works with the brain and the eyes to completely immerse virtual visitors in the experience they are viewing through the headset.
"It's as close to actually being there as it's possible to be."
Alison Smith, head of Angus Council's business team, added: "We are very excited about being the first to offer this immersive virtual visit to Angus.
"It's a fantastic use of the impressive Oculus Rift technology and is an innovative and fun way to share the attractions of Angus with those attending VisitScotland expo."
Hundreds of tour operators, wholesalers, travel agents and travel media are expected to attend the two-day VisitScotland expo at the Aberdeen AECC.
Bosses say the trade show will generate more than £24m worth of business.