Racer who drove at double the speed limit in Dundee is banned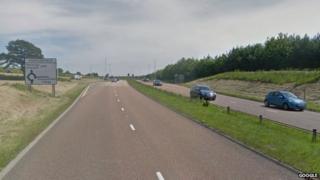 A man who raced another driver down a main road at more than double the speed limit has been banned for two years.
Peter Corrigan hit 89mph in a 40mph limit area on the A92 Arbroath road on the outskirts of Dundee.
The 21-year-old, of Perth, admitted driving dangerously on 7 March 2014, as did co-accused Paul Docherty, 24.
Corrigan was banned for two years and given 200 hours of unpaid work, while Docherty was banned for 17 months and sentenced to 100 hours of unpaid work.
Sheriff Alistair Brown told Corrigan: "You were driving at well over twice the speed limit on this road in a way which was thoroughly dangerous.
"You had apparently not the remotest idea of how fast you were driving."