Money payback order for jailed Dundee VAT fraudster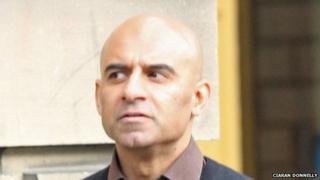 A Dundee businessman jailed for a multi-million VAT fraud scheme has been ordered to pay £240,000.
Shahid Ramzan was ordered to hand the cash over after a proceeds of crime hearing at the High Court in Edinburgh.
The 42-year-old was jailed for nine years for evading VAT payments of £5.6m, and transferring or hiding criminal property worth more than £20m.
His lawyers agreed he made £6.8m from criminal activities, but said he only had £240,00 available in actual assets.
The court heard that Ramzan will pay the money within six months.
At his trial in 2012, the court heard that Ramzan began trading from his bedroom in Broughty Ferry with only a telephone, a fax machine and a computer, before building up a global financial network.
He was found guilty of running a complex VAT fraud between October 2002 and July 2004, using front companies set up in Spain to export his money out of Scotland.
He appealed against his conviction earlier this year, claiming the jury was misdirected during his trial, but the case was rejected at the Court of Criminal Appeal in Edinburgh.