Pair admit random assault on OAP at his Dundee home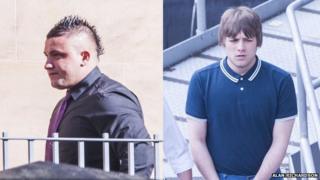 A pair of men have admitted forcing their way into a 74-year-old Dundee man's house and subjecting him to a brutal assault.
Gary Ironside, 19, and Ryan Jendrycha, 28, attacked Alexander Lees at random on 27 July last year after "going to the wrong door".
They knocked the pensioner to the ground and punched and kicked him.
Sheriff Alistair Brown said he may remit the case to the High Court, where longer jail terms can be imposed.
Ironside and Jendrycha, both of Dundee, barged into Mr Lees's home at mid-day on the Sunday, having spent the previous night drinking.
Neither man had met the retired police officer before, but launched an unprovoked attack on him at the Hindmarsh Avenue property.
Lawyers for the pair said they had "gone to the wrong door" while looking for Jendrycha's ex-partner, who lived on the same street.
Part-time bouncer Jendrycha knocked Mr Lees to the ground and climbed on top of him before repeatedly punching him for several minutes.
When Jendrycha got up, Ironside stepped in to continue the assault, repeatedly kicking the victim on the head and back. Neither man said a word before leaving the house.
'No explanation'
After managing to make his way to a neighbour's door, Mr Lees was taken to hospital and treated for extensive soft tissue injuries to his face, severe bruising, an abrasion across his forehead, swelling to both eyes and nose and swelling and lacerations to his left ear, cheek and lower lip.
Although he has since made a full recovery, the 74-year-old said he was left confused and upset by the incident, and asked to be re-housed as he no longer felt safe in his own home.
Ironside and Jendrycha both pleaded guilty on indictment to assaulting Mr Lees to his severe injury.
Defence solicitor John Boyle, acting for Jendrycha, said: "The difficulty is there is no explanation for why this happened.
"It appears they have attended at the wrong door and there's no explanation for it."
Kris Gilmartin, for Ironside, added: "There was no intent to attack Mr Lees - there was no reason for him to be subject to this assault."
Sheriff Brown deferred sentence for social work background reports, and remanded the pair in custody meantime.
He said: "I will review on the next date whether I will sentence myself or whether I shall remit the case to the High Court for a sentence in excess of five years imprisonment."