Scottish man stranded by Nepal earthquake tells of rescue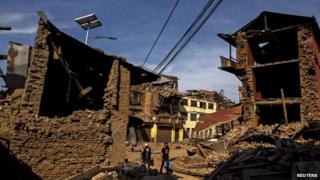 A Scottish man who was stranded at a Himalayan monastery by the earthquake in Nepal has told of his rescue.
Stephen Mulhearn was the tour guide with a group of eight Britons who were airlifted to safety several days after the remote monastery was cut off by landslides.
Mr Mulhearn, who is from Callander, said the group had been "very lucky".
The 7.8-magnitude earthquake is now known to have killed more than 7,500 people, and injured more than 14,500.
Mr Mulhearn was part of a group of 13, including eight Britons, four Americans and a Malaysian, who had been trekking and studying Buddhism at the monastery, which is a ten-day hike away from Kathmandu.
He said: "We obviously felt the earthquake, and that was very traumatic, but we weren't aware of the thousand people who had died in Kathmandu and all the surrounding villages.
"We had just come out of the great temple, having been in meditation for about six hours with a hundred monks and nuns, and we had literally just finished the ceremony and walked out the door when the earthquake struck and started bringing down walls of the ancient temple.
"Luckily we were all outside, so everyone was safe. But as soon as the earthquake struck, to the left of us was a 20,000ft mountain, and an avalanche came, followed by rockslides, so it was pretty intense to say the least."
Although none of the group were injured, they found themselves stranded, with the roads to Kathmandu cut off by avalanches and little help forthcoming from the city, which had been badly affected by the earthquake itself.
Mr Mulhearn said: "It was really difficult because I was phoning the British embassy in Kathmandu which just had an answering machine. The crisis number just went dead. We had no help or support there, so it was frightening.
"We were fortunate that a third of the group were airlifted by American marines who came in. They could only take four people, so they took the Americans and one Nepalese. They tried to get back to us but they had to be called to Everest after a landslide.
"My wife at home was constantly on the phone to the foreign office, but it took us days to get airlifted out."
He added: "It takes ten days hiking from Kathmandu to get to the monastery, so supplies usually come by mule. The landslides blocked the roads off so for the last few days we were having to eat into the locals' food, which was difficult as we were using their supplies up.
"They're absolutely blocked off, so they'll be running very low on food now if they have any left at all."
Thousands of aid workers from around the world have joined the humanitarian effort in Nepal, where three million people are now in need of food aid.
More than 130,000 houses were destroyed in the earthquake, and 24,000 people were left living in makeshift camps.
Survivors are confronted by a lack of shelter, contaminated water and poor sanitation, which the UK's Disasters Emergency Committee said could lead to serious outbreaks of disease.
However, Mr Mulhearn said he was determined to go back to Nepal next year.
"It's the most beautiful place on the planet, and the people were the kindest I've ever met," he said.
"The hardest thing about the whole trek was the cook who was there, his family's house had been flattened in the earthquake, and we tried desperately to get the British helicopter to take him back to Kathmandu because his children were very frightened.
"They couldn't take him - the helicopter was over capacity - so we actually organised our own helicopter which flew the other survivors out the next day."