Perthshire teenager ranked on 'Wildlife Power List'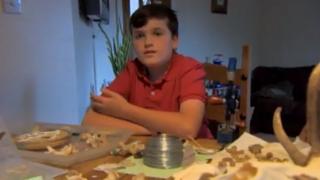 A 13-year-old boy from Perthshire has been named as one of the most important "conservation heroes" in Britain.
Bone collector Jake McGowan-Lowe has been included in BBC Wildlife Magazine's "Wildlife Power List".
The feature ranks 50 people the magazine believes will have the biggest impact on wildlife over the next decade.
The teenager, from Braco, appears alongside Sir David Attenborough, Dr Jane Goodall and Chris Packham.
Jake took up bone collecting at the age of six after finding a rabbit skull, and now has one of the UK's largest bone collections with more than 3,000 specimens.
He has his own website where he blogs about bones and wildlife, and has published a book on the subject.
'Inspirational character'
Magazine editor Matt Swaine said the list was more about potential than "big names".
He said: "It's not just about people who have achieved great things, it's about people who we say are going to achieve great things, and where these people might take us in the next five to 10 years.
"Jake is a really inspirational character - he has a book published already, and he's inspired a lot of young people to go out and take an interest."
Jake has appeared alongside Sir Attenborough on The One Show and Mr Packham on Springwatch, as well as featuring on CBBC.
The May issue of BBC Wildlife Magazine goes on sale on Wednesday.