Perthshire pistols set to fetch £30,000 at auction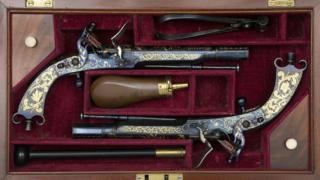 A pair of gold-inlaid pistols that belonged to a Governor of the Bank of Scotland is set to fetch up to £30,000 at auction.
The Highland 28-bore belt pistols were presented to John Campbell, 2nd Marquess of Breadalbane, by the electors of Perthshire in 1836.
The cased pistols feature in the arms and armour section of Bonhams' annual Scottish sale on 13 April.
The Dundee-born Liberal politician was MP for Perthshire from 1832 to 1834.
He was later appointed Lord-Lieutenant of Argyllshire, a post he held until his death in 1862.
He was Governor of the Bank of Scotland from 1861 to 1862.
The annual Scottish sale, which is now in its 17th year, will include works by Scottish artists, as well as highland dress, weapons and ceramics.