Perth's Zoo nightclub demolished to make way for new homes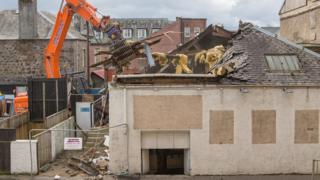 A well-known former Perth nightclub is being demolished to make way for a new housing development.
The site of Zoo nightclub in Canal Street will be replaced by 32 new apartments, with construction expected to begin in May.
The club, which was known by various names during its lifetime including Curly Lloyds and Electric Whispers, closed last August.
Robertson Partnership Homes are razing the building as part of a £3m project.
Its managing director, Stewart Shearer, said: "I know the Zoo Nightclub was a popular nightspot for many local people and some were sad to see it close its doors.
"That said, I am confident that the people of Perth will appreciate the end result."
Revised plans for the 32 apartment development were submitted to Perth and Kinross Council by site owners Perthshire Glazing Company in December.
The project was awarded by Fairfield Housing Co-operative.
Its chief executive Grant Ager said: "I know this project will be a great addition to the city and to our own portfolio.
"Once they're ready for occupancy, we will work with Perth and Kinross Council to allocate the flats to the people who need them."