Fundraiser launched to restore brakevan gutted by fire-raisers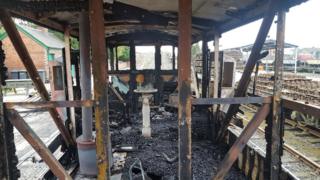 A fundraising campaign has been launched to rebuild a 1940's brakevan destroyed by fire-raisers in Angus.
The recently restored wagon at the volunteer-run Caledonian Railway in Brechin was set alight on Wednesday night,
The total cost of restoration is estimated at between £20,000 and £25,000.
The volunteers, who spent five months restoring the wagon in 2014, hope to raise an initial £5,000.
Over £1,200 has already been pledged.
Volunteer Andy Pegg said: "We have set up this campaign in response to the many kind offers of donations and support from the members of the public.
"We were surprised and heartened by the resounding response and all of the kind words of support given to us from the community.
"With all our hard work now gone, we are all at a loss and morale between the volunteers has seen a significant drop."
Caledonian Railway runs steam engines and diesel locomotives between Brechin and Bridge of Dun.
The wooden body of the 1940s LMS brakevan was set on fire between 22:45 and 23:00 on Wednesday at the railway in Brechin's Park Road.
A police investigation into the incident is continuing.