Campaigners 'disappointed' as muscular dystrophy treatment denied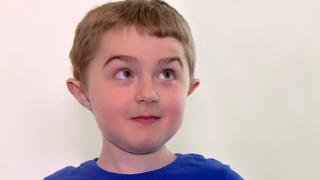 A new drug used to treat the underlying causes of Duchenne muscular dystrophy has been rejected for routine use in Scottish hospitals.
Michael Young, nine, who has the condition, recently lobbied Nicola Sturgeon campaigning for the treatment.
The Scottish Medicines Consortium (SMC) said it was not satisfied that routine use of ataluren would "represent a good use of NHS resources."
It said there was "uncertainty" over health benefits in relation to cost.
SMC chairman Prof Jonathan Fox said it was "disappointing" that the committee was unable to recommend the drug, whose trade name is Translarna, for routine use.
He said: "We know that DMD significantly reduces life expectancy and the committee heard about its profound impact on people with the condition, their families and carers.
"There is a clear unmet need for an effective treatment for this devastating condition.
"Despite the very powerful and moving testimonies given by patient groups and clinicians for this medicine, there was uncertainty around the overall health benefits in relation to the medicine's cost and the committee was not satisfied that it would represent a good use of NHS resources."
'We are bitterly disappointed'
Michael, from Larbert in Stirlingshire, took part in a clinical trial during the development of Translarna.
He wrote to Ms Sturgeon explaining about his condition and asking for her to "help boys to keep walking".
The first minister explained that the assessment procedure had to be "entirely independent of government".
PTC Therapeutics, the company which develops the treatment, is expected to resubmit the drug to the committee.
Muscular Dystrophy UK's chief executive Robert Meadowcroft said: "We are bitterly disappointed by today's announcement.
"Our thoughts are with the Scottish families whose every hope has been pinned on this decision.
"They have endured an 18-month wait for news about a drug that could transform their sons' childhoods, only to receive this blow today.
"We are now calling on Translarna's producers to negotiate a sustainable price and to work with the SMC towards a solution, to ensure Scottish families don't miss out on a drug that could transform lives."
The SMC said in a statement: "The committee was unable to recommend ataluren for routine use in NHS Scotland for patients with Duchenne Muscular Dystrophy (MD).
"The treatment is licensed for use in those patients with a rare genetic mutation that affects 13% of those with the condition.
"Duchenne MD is life limiting disease which causes muscle wasting.
"The committee was unable to recommend ataluren as there was too much uncertainty about the overall clinical benefits it might bring in relation to its cost.
"Following a meeting between the company and SMC, the company has indicated their intention to resubmit."
The committee accepted three new medicines for routine use in Scottish hospitals.
These were everolimus for advanced breast cancer, isavuconazole for serious fungal infections and camellia sinensis for genital and perianal warts.
Eculizumab, which is used to treat rare genetic blood disease Paroxysmal Nocturnal Haemoglobinuria (PNH) was also rejected for routine use along with ataluren.