Almost 200 jobs to go as Carron Phoenix sink plant closes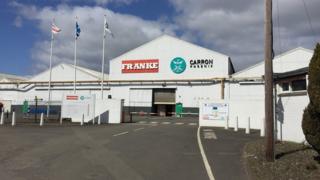 The Carron Phoenix sink manufacturing plant in Falkirk is to close, with the loss of almost 200 jobs.
Swiss-based Franke Group said it will undertake a "phased closure programme" over the next 18 to 20 months.
The company said about 15 warehousing jobs would remain at a new local logistics facility.
Franke Group said it was closing the Falkirk site and two other European sites to centralise production in Slovakia.
Operations director Bart Doornkamp: "This is not a decision we have taken lightly.
"We examined in great detail the option of upgrading the Falkirk plant but the high level of investment that would have been required made the business case simply unsustainable.
"Consultation with the trade unions is a priority to ensure that we undertake an orderly, phased closure of the plant by December 2017.
"Dependent on those discussions, we are hopeful that there will be no redundancies before the start of next year."
---
Analysis
By Business and economy editor Douglas Fraser
The closure of the Carron works in Falkirk can be seen as a metaphor for Scottish manufacturing. Even the kitchen sink is going.
It takes nearly 200 jobs with it, which is a harsh reality for the workforce. But this is symbolic as well as for real, and it goes much further than sink-manufacturing being sunk.
The Carron works have been described as the single biggest contributor to the Industrial Revolution as it took hold in Scotland. And of course, that meant it was one of the most important in the world.
Read more from Douglas here.
---
Iconic names
The Carron Iron Works was set up in 1759 and became Europe's largest smelting works, with more than 1,000 staff.
It was famed for its manufacture of red telephone boxes and pillar boxes.
It also became associated with iconic names such as Henry Shrapnel, Alfred Nobel and James Watt, who had his first engine made at Carron.
The plant, which was bought by Franke in 1990, currently employs 211 people.
Mr Doornkamp said: "We are committed to working with the unions to finalise appropriate terms for employees and, wherever possible, to agree support to help them find new jobs and training opportunities.
"We are confident we will reach agreement on these issues in the coming weeks.
"We are also in touch with Scottish Enterprise and the local authority to ensure all possible support is given to the workforce."
'Hammer blow'
Gary Cook, Scotland regional officer of the GMB trade union, said: "This is another hammer blow to the Scottish economy and the workers are absolutely devastated.
"Once again Scottish workers are left pleading for a government intervention to try and save their livelihoods and skills - a depressingly familiar scenario that cannot continue unchallenged."
Grahame Smith, general secretary of the STUC, said it was a "devastating blow" to the workers, their families and the Falkirk community.
"Closure of this plant also represents another huge setback for Scottish manufacturing which has contracted for three out of the last four quarters and isn't yet close to returning to pre-recession levels of output," he said.
"The past year has seen a succession of large closures and job losses which will have negative consequences for workers and local economies for years to come."