Dundee choreographer brings the Bard to life in Shakespeare Shuffle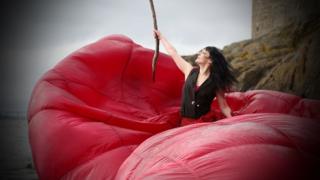 A Dundee choreographer has returned to his former school for a dance film inspired by Shakespeare's stories.
Tommy Small featured Mill O'Mains Primary School pupils in a battle scene of Shakespeare Shuffle.
It forms part of the BBC's Shakespeare 2016 festival which marks the 400th anniversary of the writer's death.
The seven-minute film was also shot at Broughty Castle, Dundee's Marryat Hall and the Kelpies sculptures near Falkirk.
Shakespeare Shuffle features Shaper/Caper's professional dancers, with music from The Overtones.
The film also includes the National Youth Dance Company of Scotland and the Scottish School of Contemporary Dance at Dundee & Angus College.
Mr Small, who is BBC Radio 2's artist in residence, said: "I really wanted to get a lot of the people I've been working with over the years and the locations as well.
"We're so fortunate to live in such a beautiful city."
The project took almost four months and includes scenes filmed in London, Blackpool and a Romeo and Juliet scene in New York's Times Square.
The Mill O'Mains pupils segment is a battle scene based on Macbeth.
The 38-year-old choreographer said: "I really wanted to give them that opportunity of seeing that anything is possible and you can do anything that you want to with your career.
"They were really excited when we started talking about Chris Evans and Sarah Cox and all these kind of people they hear on the radio with their mums and dads, listening at breakfast."
The youngest performer in the film is one-year-old and the oldest is 77.
BBC Radio 2 presenters, including Chris Evans and Jonathan Ross, have provided Shakespeare readings especially for the film.