T in the Park drug dealer ordered to pay back proceeds of crime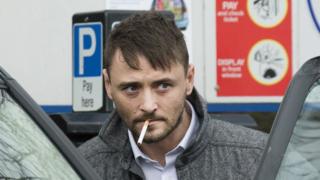 A man caught bringing drugs into T in the Park to sell has been ordered to pay back £1,500 under Proceeds of Crime legislation.
A court heard Adam Gallacher, who was jailed for a year for the offence, had made over £70,000 from his "general criminal conduct".
Prosecutors tried to recover £50,000 from him but settled for the lower sum.
Gallacher was caught after police sniffer dogs "went crazy" as he attempted to enter the 2013 event.
Officers recovered 100 grams of cannabis and 43 tabs of the hallucinogen N-Bomb from the father-of-two.
The 35-year-old, from Blackburn, Lancashire, was given six months to pay back the money.
Perth Sheriff Court was told £1,500 was the "realisable assets" belonging to him.
Gallacher was jailed last September after he was caught by sniffer dogs taking drugs into T in the Park because he was enveloped in a cloud of cannabis smoke.
Not convinced
Sheriff William Wood told him at the time: "It is important that people who come to T in the Park understand that a custodial sentence is likely if they intend to supply drugs to others.
"I have never been convinced by your explanation that you didn't know it was there, given there was a smell of drugs from you and you have been associated with drugs in the past."
A jury found Gallacher guilty of having £1,500 worth of cannabis and £430 worth of synthetic hallucinogen N-Bomb at the festival with intent to supply it on 11 July 2013.
Gallacher's trial heard him claim that someone else had placed the drugs in his equipment for the weekend and that he was unaware of it until he was searched.
One officer told the trial that his dog "went crazy" when Gallacher came closer and he said the air around the accused had a strong and distinctive smell of cannabis.