Jail warning for fake detective who assaulted teenager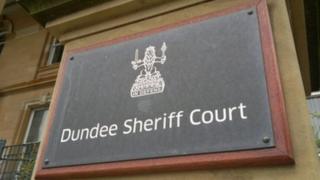 A man who pretended to be a police detective before demanding two young men empty their pockets had his sentence deferred.
Robert Clark assaulted one of the men who was part of a group of teenagers standing at a bus stop in Dundee's Nethergate last December.
Dundee Sheriff Court heard Clark became "very aggressive" towards them and punched the older teenager twice.
He was told he would be jailed if he did not behave in the next six months.
The court was told that Clark had initially smiled at the teenagers when he walked past but turned back and confronted them.
He grabbed two of the teenagers by their jackets and pulled them in to an alcove outside a business centre.
He then claimed he was a CID officer and demanded they empty their pockets, telling them he believed they were pickpockets.
'Not a grass'
Clark left the group, claiming he was "going to get his pals", but instead went to a pub.
Clark, 42, of Miltonfield, Cupar, Fife, pleaded guilty to impersonating a police officer and assaulting two people on December 5 last year in Nethergate, Dundee.
Sheriff Tom Hughes told Clark: "The reports say you have reservations about some of this.
"My reservation was whether or not I was going to send you to jail or not today.
"I'm not letting you off the hook.
"I'm deferring sentence for six months and I'm doing that for you to get help for your alcohol problem and for you to be of good behaviour.
"If I don't get a glowing report in six months you will be going to jail for six months."