Dundee University forensic science ranked 'best in UK'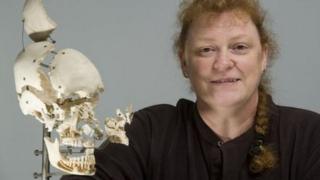 Dundee University has been ranked the best in the UK for forensic science.
Its centre for anatomy and human identification is headed by leading forensic anthropologist Prof Sue Black.
The university was awarded a £10m grant to establish the Leverhulme research centre for forensic science, led by Prof Black and Prof Niamh Nic Daeid.
The university has also risen seven places for the second consecutive year in the Complete University Guide league table.
Prof Black said: "This ranking reaffirms the place that Dundee holds within forensic science and is a real testament to our forensic staff and their commitment to the student experience."
'Develop new frontiers'
The centre was awarded the Queen's Anniversary Prize for Higher Education 2014 and attracts students from around the world.
Prof Nic Daeid said: "This is a great result and reflects our commitment to provide academic leadership, enhance research activity and develop new frontiers in forensic science through our Leverhulme centre."
Dundee University has now moved to 35th from 49th two years ago in the overall table, which is based on ten measures including student satisfaction and the quality of research.
The university's principal and vice-chancellor Prof Sir Pete Downes, said: "This is yet another strong showing for us in a ranking that is driven by things which really matter to students and those who are considering going to university."
Meanwhile, the University of St Andrews announced it had been ranked top in Scotland in the Complete University Guide.
The university said it came fifth overall in the UK, making it the only university north of the border in the UK top 10.
Acting principal and vice-chancellor Prof Garry Taylor said: "The fact that St Andrews has retained its fifth place in the UK and top in Scotland is testament to the commitment of all my colleagues in the university who work tirelessly to ensure that the unique St Andrews student experience is not only maintained, but enhanced year on year."