Work planned to save 'Macbeth trees'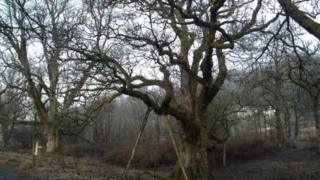 Work to safeguard two ancient trees thought to be from the forest immortalised in Shakespeare's Macbeth will begin in the coming weeks.
The Birnam Oak and Sycamore, near Dunkeld, were damaged when Storm Desmond struck last December.
Branches will be shortened to reduce the strain on the tree trunks, with dead branches also being removed.
Nearby trees which are beginning to encroach on the oak and dim its light will also be trimmed back.
Perth and Kinross Countryside Trust outlined the work at a public meeting on Wednesday.
A spokeswoman for the trust told BBC Scotland: "The package of proposals was well received by those members of the public who attended the meeting.
"Paul Hanson of Arboretum International was able to explain the works being proposed to maintain and conserve the trees and answer questions so that those present were as well-informed as possible.
"It was agreed that a phased approach to actions to be undertaken regarding the trees is best."
The trust said work would be carried out in a "phased approach."
Urgent remedial works
The spokeswoman said: "This will enable us to prioritise the most urgent remedial arboricultural works which are to safeguard the trees.
"These are likely to now go ahead in the next few weeks.
Further works, including new supports for the oak, and improvements to the path, will be undertaken later this year and into 2017 following further research and community consultation."
Ultrasound scans have revealed damage to the trees and soil around them.
Tree surgeons warned The Birnam Oak could split in two because its trunk is rotten but its heavy branches are still growing and pulling it apart with their weight.
The trees are thought to be the sole survivors from the medieval forest made famous by Shakespeare and still attract thousands of visitors a year.
In Macbeth, the witches consulted by the Scottish king over his future tell him he shall "never vanquish'd be until Great Birnam Wood to high Dunsinane Hill shall come against him".