V&A community garden planned for Dundee Waterfront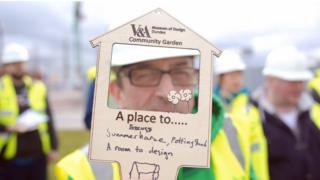 People living with health and wellbeing issues have helped design a garden at the heart of Dundee's £1bn waterfront regeneration.
The V&A Dundee community garden has been jointly created by professional designers and members of the public.
It will be part of the new Slessor Gardens and is due to open later this year.
The first part of the project focused on jointly designing the new garden and has now been completed.
The next stage involves the landscaping and physical construction of the 100 sq m plot.
Over the past three months, 20 members of the public have taken part in the project across seven workshops.
The workshops have included creating miniature gardens and visiting allotments to learn how people use gardens to rest and relax.
Self-confidence
Peter Nurick, V&A Dundee communities producer, said: "Garden design is a fascinating area which can have very significant benefits for anyone's health and wellbeing, particularly for people managing a range of mental health issues.
"The participants have gained a great deal of self-confidence through the project, and we look forward to putting together a bigger team of volunteers to build the V&A Dundee community garden over the summer."
Derek, one of the participants, said: "I learned a lot of ideas for working in the garden. I felt encouraged to do things.
"I learned about spacing plants and where to put them in the right places. I achieved a great experience.
"Being part of a team makes me feel important and occupied."
The project received support from Art Angel, an organisation run by and for people with experience of mental health difficulties in Dundee.
Art Angel manager Rosie Summerton said: "It has enabled participants to engage in a new process with professional designers and to develop a new set of skills that can utilised within the community and shared with others.
"The project has empowered those involved, building confidence and self-esteem, and creating a legacy which will benefit many people for years to come."