Man stole £1,700 of alcohol after 'anger at failed job interview'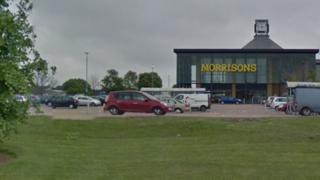 A man who stole £1,700 worth of alcohol from a supermarket because he was angry about a failed job interview has been jailed for 60 days.
Gheorge Ilie was seen pushing a trolley filled "to the brim" with bottles out of Morrisons' Dundee store in April.
Dundee Sheriff Court was told that Ilie planned to sell the items and give the money to his family by way of "compensation for not getting the job".
The incident was described as "inept" by Sheriff George Way.
The court heard Ilie tried to conceal the bottles with bags but security tags on them activated alarms as he tried to walk out of the store.
Depute fiscal John Adams told the court: "Witnesses were dealing with a matter at the customer service desk when they saw the accused walk briskly passed them towards the exit.
"He was pushing a large trolley filled to the brim with bottles of various spirits.
"The alarm system was triggered and the witnesses ran after the accused."
Father-of-five
Ilie, a father-of-five, was escorted back to the store and held there until police arrived.
The fiscal said the total value of the items taken was £1,735 and there was full recovery of the alcohol.
Ilie, 40, of East Ham, London, admitted a charge of theft by shoplifting on 8 April.
Defence solicitor Anne Duffy said: "He came here for a job interview but didn't get the job and was angry about it.
"He then committed the offence, for which he states he was going to sell the items and take the money down to his family and offer that to them by way of compensation for not getting the job."
Sheriff Way said: "What he was trying to do was steal quite a lot and I have to treat it as a serious attempt of theft.
"It may have been inept but it was still a serious attempt."