Temporary 'teaching village' for Balfron High School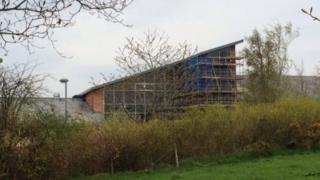 A temporary "teaching village" will be created at a Stirlingshire secondary school partially closed due to structural problems.
Balfron High School S1 to S3 pupils are currently being bussed to three other Stirling high schools after issues were found during precautionary checks.
Headmistress Elaine Bannatyne said all lessons were expected to be held at the school from the start of June.
SQA exams are being held in parts of the building which are unaffected.
In a letter to parents, Ms Bannatynne said: "We are working closely with colleagues from Stirling Council on a plan to bring a temporary teaching village onto our campus.
"Plans are looking towards having everyone for Monday 6 June to begin the new timetable as planned."
'More complicated'
The S1 to S3 pupils are being bussed to St Modan's, Wallace and Stirling high schools.
Ms Bannatyne said: "I appreciate that it is frustrating for some to travel beyond their home to get to Balfron just to get a bus back again.
"However, we would really appreciate your support in sticking with the decision to start and finish at Balfron High.
"Adding stops or changing arrangements would make the travel back slower and more complicated to manage."
Issues with walls in the stairwell, gym and atrium were discovered during the checks earlier in May.
The school was built under a private finance initiative about 15 years ago but not by the firm involved with recent problems with Edinburgh schools.