Masked men sought after attempted raid on Dundee pawnbrokers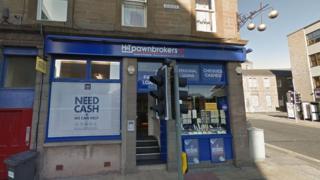 Police are appealing for information after two masked men attempted to break into a pawnbrokers in Dundee.
Officers said they want to trace two males who were seen outside Harvey and Thomson pawnbrokers in Seagate at about 15:00 on 20 May.
Detectives have been conducting door to door inquiries in the area and reviewing public and private CCTV.
The men were later seen heading northwards on St Andrews Street towards the Wellgate shopping centre.
Both men were described as 6ft in height.
One was wearing a grey hooded top, grey tracksuit bottoms and a dark mask on the bottom half of his face.
The other man wore a black hooded top and a dark mask, also concealing the bottom half of his face.
Det Con Graeme Wishart said: "The area was busy with pedestrians and vehicles and it is possible that someone may have seen something useful to the inquiry.
"In particular it has been reported that there was an elderly lady standing outside the shop at the time of the incident.
"Officers are keen to talk to this lady as she may have information that could assist."