Businessman's DNA link to medieval king revealed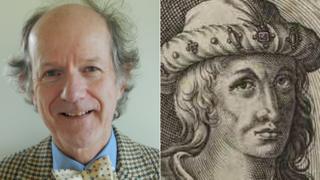 A Stirlingshire businessman's DNA sample has confirmed him as a direct descendant of a medieval Scottish king.
Archie Shaw Stewart is in the family line of King Robert III, who ruled from 1390 until his death in 1406.
His own research had already shown he was related to the king's son, Sir John Stewart of Blackhall and Ardgowan.
His family line includes Sir John's great-grandfather, Walter Stewart, one of Robert the Bruce's commanders at the Battle of Bannockburn.
The DNA study was carried out by the genealogical studies postgraduate programme based at the University of Strathclyde, and the Bannockburn Family History Project.
The project attempts to uncover connections between people living today and ancestors who fought in the battle.
Mr Shaw Stewart, who runs an electronics firm based near Doune, said: "My great uncle, Patrick Shaw Stewart, produced an extensive family tree over 100 years ago, extending back to Robert III.
"He would be very satisfied to see this part of it - Stewart - verified by new technology."
'Fascinating discovery'
In addition to uncovering Mr Shaw Stewart's family connection, the study has also revealed that he holds a distinctive genetic marker which had not been found in Robert III's brothers.
Organisers of the study said this leads to the potential discovery of future descendants who carry the marker and can be directly linked to the former Scottish king.
Graham Holton, principal tutor at the genealogical studies programme, said the marker was a "fascinating discovery".
He said: "The marker is not found in descendants of the king's brothers, showing that a mutation in the DNA occurred in either Robert III himself or one of his descendants.
"It is not yet known in which generation this took place but we are delighted to have been able to confirm Archie Shaw Stewart's place in medieval royal lineage, and acknowledge his contribution to furthering research into the branches of the Stewarts."