Stirling squadron's centenary celebrated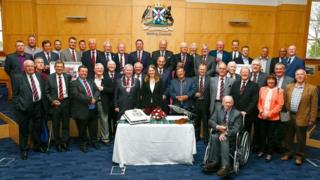 A prominent fighting unit from the Stirling area has been welcomed back to the city for three days of centenary celebrations.
43 (Fighter) Squadron was formed near Falleninch Farm on the outskirts of the city in April 1916.
Squadron members attended the installation of a new memorial stone at the farm before a formal dinner.
The squadron was Stirling's first ever recipient of the Freedom of the City in 2005.
Other events to mark the centenary included a service and laying up of the colours at the Church of the Holy Rude.
Stirling Provost Mike Robbins said: "It was an honour and a privilege to welcome Stirling's own fighting squadron back to the city and to reaffirm the high regard our whole community has for them.
"Their association with Stirling is a long and proud one and having the squadron colours now in permanent residence at the Church of the Holy Rude is a wonderful reminder of a relationship we hope will continue far into the future."