Hundreds expected at Orlando vigil in Dundee's City Square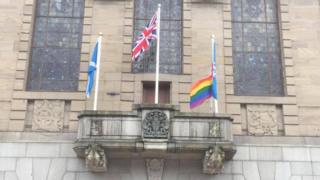 Hundreds of people are expected at a vigil in Dundee to remember the 49 people who were shot dead at a gay nightclub in Florida on Sunday.
The City Square event has been organised by Dundee University's LGBT+ society, which is encouraging visitors to bring signs, banners and posters celebrating LGBT pride.
The Dundee Stands with Orlando vigil will begin at 19:00 on Tuesday.
Omar Mateen targeted Orlando's Pulse club before being killed by police.
The rainbow Pride flag, a symbol of the lesbian, gay, bisexual, and transgender community is being flown at Dundee's City Chambers to commemorate the victims.
Dundee LGBT+ society president Sally Melville said: "This attack on a very specific LGBT space has shown us that we need to be out in the public and share public space and demonstrate in a way will notice and will realise there is LGBT solidarity around the world for the victims of the Orlando shooting.
"We've had a lot of support across Dundee. There has been a huge response, which I'm hugely grateful for,
"I think working in collaboration with other Scottish LGBT organisations has really helped that."
Hundreds attended a vigil in Glasgow's George Square on Monday evening, where people laid floral tributes, lit candles and the names of the victims were read aloud.