Dog neglect owner given ten year animal ban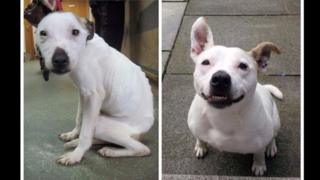 A Stirlingshire woman whose emaciated and dehydrated dog was rescued by the Scottish SPCA has been banned from keeping animals for ten years.
Fiona Cuthill's dog Snoop was found in a "semi-collapsed state" at her home in Plean after animal welfare officers were tipped off.
A vet found that the dog had sustained "significant prolonged suffering by starvation" and weighed only 5.85kg.
The Scottish SPCA said Snoop has now recovered and been re-homed.
Cuthill, 31, was also ordered to pay the charity £500 by Sheriff Jamie Gilchrist after admitting failing to provide sufficient adequate nutrition for her dog.
Insp Loiuse Sneddon, of the Scottish SPCA, said the charity had received a call in November 2015 that a dog was being kept at Cuthill's home which was "very thin and shaking and looked like it was dying".
'Seriously dehydrated'
She said: "When I arrived, I found Snoop in extremely thin condition and all his bones, especially his ribs and pelvic bones, were very prominent.
"He was in a semi-collapsed state and was only able to stand with difficulty when lifted."
"The vet's findings were that Snoop was severely emaciated and seriously dehydrated."
Insp Sneddon said a vet estimated that the dog would have died within a few days if it had not receive medical attention.
She said: "Sheriff Gilchrist remarked that although Cuthill had financial constraints it was inconceivable that she did not realise Snoop was in trouble and he only needed food, not expensive veterinary care.
"We welcome the fact that Cuthill has been dealt with by the court and been banned from keeping pets for 10 years.
"We are also very pleased that Snoop went on to make a full recovery and now has a loving new owner."