Record number of rescued animals returned to the wild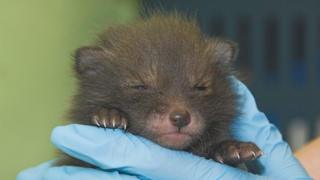 A record number of rescued wild animals were returned to their natural habitat last year, according to the Scottish SPCA.
The charity returned 4,651 animals to the wild in 2015, compared to 1,881 in 2010.
Carers believe it is due to a growing awareness of animals in danger and the creation of a £3.5m national wildlife rescue centre.
The centre in Fishcross, near Alloa, was entirely funded by donations.
Among those recently released were two five-week-old red squirrels found in Blairgowrie, Perth and Kinross.
Named Jar Jar and Binks after the Star Wars character, they were discovered on the ground having likely fallen from their tree nest.
The pair had to be syringe-fed through the night before they were moved to an outdoor enclosure and eventually returned to their natural habitat.
They were joined at the rescue centre by fox cub Utah and otter cub Buddy.
The two cubs are still being treated and learning how to fend for themselves before they will be released later this year.
Speaking at the launch of the charity's annual wildlife week, Fishcross centre manager Colin Seddon said: "Releasing wild animals fit and healthy back to their natural habitats is always our aim wherever possible, so these statistics are incredibly encouraging.
"At Fishcross we benefit from on-site veterinary facilities which means we don't have to move animals once they are here, keeping human interaction and stress to an absolute minimum.
"Our staff provide a very high standard of care for Scotland's wildlife and we are tremendously proud of our progress."