Dundee newsagent's £1m tax dodge revealed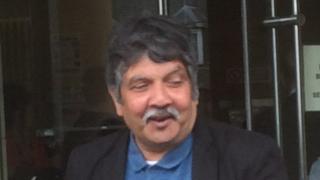 A convicted perjurer did not pay more than £1 million in tax and used the money to fund home improvements and private education for his children, an investigation revealed.
Former Dundee newsagent Mohammed Arshid, 61, has been banned from acting as a company director for 11 years.
His wife, Maqsoodan Arshid, has also been banned for two years for allowing the non-payment of tax to happen.
Arshid was jailed for 17 months in 2015 for lying during an extortion trial.
The couple were both directors of Nethergate Newsagents Ltd in Dundee which was placed into compulsory liquidation in July 2014 with debts of £1,044,973.
The liquidation took place after a five-year investigation during which HMRC established that Arshid caused the company to under-declare and conceal liabilities in relation to PAYE, National Insurance Contributions, VAT and corporation tax.
False tax returns
This included submitting false end-of-year returns for 17 years, concealing sales in VAT returns for a period of 16 years and submitting incorrect company tax returns over over three consecutive financial years.
Arshid then understated the company's sales for the next six years.
The couple admitted that their actions allowed their family members to make person gains, including home improvements, private education and employee wage top-ups.
An investigation by the Insolvency Service found Arshid had "breached his fiduciary duty" as a director by submitting false information to HMRC resulting in lost revenue totalling £1,020,423.
His wife, was disqualified for "abrogating her duties as a director", allowing Arshid the freedom to commit the offence, which they both personally benefitted from.
Robert Clarke, group leader of insolvent investigations north for HMRC, said: "These bans should serve as a warning to other directors tempted to help themselves first.
"You have a duty to your creditors and if you neglect this duty you could be investigated by the Insolvency Service and removed from the business environment."