£100,000 fundraising campaign to save Birnam Oak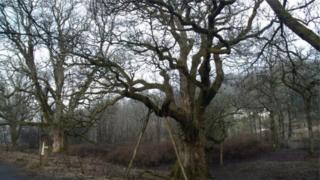 A £100,000 fundraising campaign has been launched to save an ancient tree believed to be from the forest immortalised in Shakespeare's Macbeth.
Remedial work has already been carried out on The Birnam Oak, near Dunkeld, after warnings it could split in two.
The new campaign would fund the replacement of rotting props and address drainage issues.
Branches were shortened in June to reduce the strain on the tree trunks, with dead branches also being removed.
Tree surgeons said the tree was at risk because its trunk is rotten but its heavy branches are still growing and pulling it apart.
The Birnam Oak and Sycamore trees are thought to be the sole survivors from the medieval forest made famous by Shakespeare.
The trees, which attract thousands of visitors a year, were damaged during Storm Desmond last December.
Perth and Kinross Countryside Trust said: "Although the tree is now stable in the short-term, a further £100,000 of work is needed to ensure its long-term future.
"This work will include replacing the rotting props currently holding up the tree's heavier branches, dealing with the soil compaction and drainage issues around the tree's roots and protecting the soil around the tree from further floods."