Cyclist 'tours' UK - without leaving his house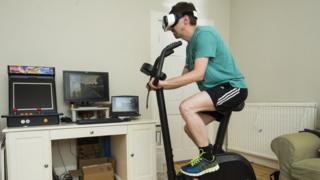 A man is cycling from Lands End to John O'Groats in his own living room by travelling virtually through Google's Street View from an exercise bike.
Software engineer Aaron Puzey, 44, is 400 miles into the "journey" after developing an app that he uses with a virtual reality headset.
He rides the stationary bike in his Dundee flat for half an hour a day.
The software he developed displays Google's Streetview map data to give him a 360 degree view of the roads.
Mr Puzey uses a cadence monitor to measure his speed, which is then translated in the app to move him through the virtual world on the 866 mile route.
He started the project on 15 May and cycles about 10 miles per day.
Mr Puzey is documenting his journey on his blog, Cycle VR, where he uploads video and photo highlights.
He says the virtual world he has passed through has made him want to visit many of his destinations in real life and that he now wants to develop his software into a commercial product.
He said: "I've been riding the exercise bike for years, just half an hour each day, but it's just a bit monotonous.
"I'd been day dreaming for a while about the possibility of using VR to make it a bit more fun and now of course the technology has arrived to make it happen.
"I don't have to worry about hills, cars, rain or anything else."