Man jailed over court dock escape bid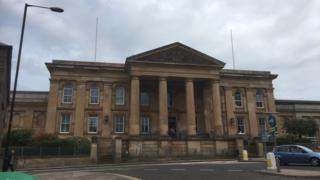 A man who jumped out of the dock at Dundee Sheriff Court in a failed escape attempt has been jailed for six months.
Kenneth Nicoll had been found guilty by a jury of assault to severe injury and was told by a sheriff he would be remanded in custody.
A court heard he vaulted over the dock before being tackled by a police officer.
He was subsequently sentenced last December to 18 months in prison for the assault.
Dundee Sheriff Court was told that Sheriff Lorna Drummond QC had revoked Nicoll's bail following the jury's verdict on 16 November last year.
Nicoll attempted to walk out of the dock but was told by the police officer that proceedings had not been completed.
He then swore at the sheriff before vaulting the dock in an attempt to escape.
The court was told that the police officer put Nicoll in a head lock and pulled him to the ground before he was handcuffed by a G4S officer.
'Doomed to failure'
Nicoll's solicitor Kevin Hampton described the incident as a "moment of madness" that was "doomed to failure."
Mr Hampton said: "The offence for which he was before the jury was some two years prior and he had been on bail throughout.
"Though he has some past experience of custody, when he was told he was being remanded he lost it.
"He has never done anything like this before. It was an aberration. It was a brief and ill-fated attempt."
Nicoll, 26 a prisoner at HMP Perth, admitted attempting to escape from custody at Dundee Sheriff Court on 16 November last year.
Sheriff Alastair Brown told Nicoll: "When you jump the dock and try and run away then court staff have to catch you.
"While I am sure that, like me, Sheriff Drummond, before whom you were appearing, does not care a jot about being shown great deference in the court room, when you do this, justice is disrupted and the court cannot work.
"That we do care about greatly."