Woolly bollard makeover in Callander proves a hit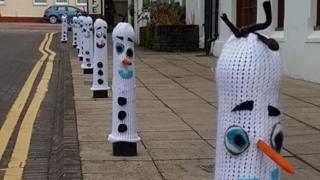 The appearance of woolly bollards in a Trossachs town has proved a major hit with visitors.
Nearly every bollard in Callander has been given a woolly makeover to mark the town's Winter Fest.
The most popular covers have been knitted in the style of Olaf the snowman, from Disney movie favourite Frozen.
They were created by women from the town's Meet and Make and Creative in Callander groups.
Among them was 52-year-old Deborah O'Hara.
'Innuendo'
She said the women, known as "yarn-bombers", had first knitted bollard covers as part of the town's Summer Fest and they had proven extremely popular.
"People just love them. Visitors to the town have been stopping to get photographs of them," she said.
"I have been watching them from the shop where I work. It's very funny to see people's faces.
"There has of course been the odd joke and innuendo about them, but mostly people just love them."
Visitors will be able to admire the covers from Thursday until Tuesday next week.