Jury consider Dundee double stabbing verdict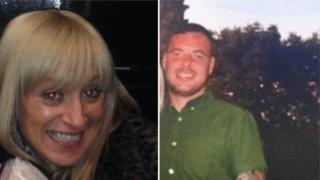 Jurors have been sent home after spending the afternoon deliberating on whether a man who has admitted stabbing two people is guilty of murder.
Robert Stratton denies murdering Julie McCash, 43, and David Sorrie, 32, in Drumlanrig Drive, Dundee on 26 February.
Mr Stratton told a jury that Ms McCash ran into a knife that he had taken from his kitchen.
The 43-year-old said he "wasn't too sure" how Mr Sorrie had been struck.
The jurors at the High Court in Edinburgh began considering their verdicts on Wednesday afternoon after being addressed by prosecutor Alex Prentice QC and defence advocate Edward Targowski QC.
They were also addressed by Lord Beckett who gave them legal directions.
Family vigil
Prosecutors claim that on 26 February Mr Stratton assaulted Ms McCash and struck her on the body with a knife and that he murdered her.
The second charge alleges that on the same date and at the same location, he murdered Mr Sorrie by striking him on the body with a knife.
The pair were fatally stabbed during a family vigil for 18-year-old Ralph Smith who fell from cliffs in Arbroath in February.
His legal team have lodged special defences of incrimination and claim he was acting in self-defence.
Both prosecutors and defence lawyers agree that Mr Stratton stabbed Ms McCash and Mr Sorrie and that the pair died as a consequence of their injuries.
The trial before Lord Beckett continues on Thursday.