Driver sentenced for crash that killed couple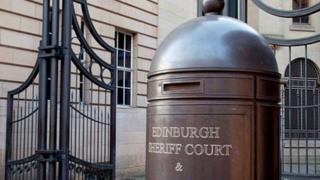 A Dundee driver who caused the deaths of two of his friends as they returned home from holiday has been given a community sentence.
Alexander McCabe admitting causing the death of Marc Edwards and his partner Jenna Tindall by careless driving.
McCabe, 30, drove into the back of the couple's car, pushing it into the path of a van on 18 July last year.
He was ordered to carry out 180 hours of unpaid work and banned from driving for two-and-a-half years.
Sheriff Michael O'Grady described McCabe's actions as a momentary lapse "albeit with a dreadful outcome."
The two occupants of the van were injured in the collision, which happened at the junction of the A68 with the A720 at Millerhill, Midlothian.
'Truly horrendous'
Edinburgh Sheriff Court was told that McCabe, his partner and his daughter were returning from Newcastle Airport following a holiday in Lanzarote with Mr Edwards, Miss Tindall and their daughter at the time of the collision.
Sheriff O'Grady told McCabe: "The word 'tragedy' is nowadays very much overused, but it is the word that inevitably and justifiably springs to mind when considering these events.
"The consequences of this offence have been truly horrendous which will live with the families of the deceased, and indeed you, for the rest of their lives".
The sheriff said that McCabe's expressions of regret and remorse were "genuinely heartfelt" and that he would carry the guilt of the incident for the rest of his life.
He said: "The lapse which led to this outcome had been momentary, albeit with a dreadful outcome."