Drama project's helping hand for veterans' recovery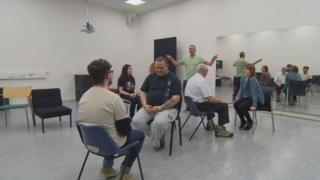 It looks much like any drama class being run in schools and colleges up and down the country.
But among the students taking part in an improvisation session at Dundee and Angus College's Gardyne campus are two military veterans.
George Holmes and Billy Girdwood attend the Stand Easy project, which works with wounded, injured or sick veterans to help their recovery through the use of drama.
It is hoped the project will be extended to other areas in Scotland.
George was just 15 years old when he signed up for the Royal Navy in 1965.
He would see service around the world including Aden in the Middle East.
The military would withdraw from Aden amid violence directed against them from those opposed to the British administration.
It was a period in his life which left a lasting impression on George.
He said: "When we came back from Aden we didn't get any help at all and the things that we witnessed, burying comrades at sea, Royal Marines in particular.
"You were just detailed off to your next ship.
"That was the same right throughout your naval career and when your discharge came up and your time expired you just handed in your ID card and naval kit.
"Nobody addressed the memories or asked how you felt about things."
Billy Girdwood joined the army in the mid-1980s and was diagnosed with Post Traumatic Stress Disorder (PTSD) in 2002.
He was earning a living as a driver but was told he would never work again.
He said: "I've tried getting jobs with other companies and as soon as you mention PTSD, they're just not interested.
"I was promised a job twice and both times after telling them what was wrong, they gave the job to someone else.
"In the end I had to give up and I went to college to see if that would help but it didn't."
'Sense of fun'
After coming along to the Stand Easy classes, Billy says he's found a new confidence.
He said: "It gives me a sense of fun, to be honest, plus coming here every week, it's just been amazing.
"It's given me the confidence to try something. I've applied to see if I can get a role in a movie which I would never have dreamt of."
George said he had regained a "sense of achievement and comradeship" that was "kind of lost" after leaving the service.
He said: "It gives a sense of purpose in later life because I'm a lot older veteran than some of the younger chaps, but we still have a connection with being in service life."
The Stand Easy project was inspired by a programme being run by the Bravo 22 company in England.
Stand Easy project director Alan Cameron says a big part of the job is simply persuading military veterans to come along to a drama class in the first place.
He said: "You can imagine veterans thinking drama and they immediately think of being on stage, of being made to look silly, prancing about, all these kinds of things.
"Of course it's not that at all.
"I would say all of the veterans we've worked with so far have been veterans who've found their lives becoming very isolating and isolated
"To get these people in here is the real, real challenge more than anything else."
Alan said he has seen "massive" changes in the veterans he has worked with.
He said: "Veterans come here with huge skills, it's just that a lot of them haven't been able to use them for a long time.
"They've got group work, communication skills, a sense of humour, self-discipline, courage, all of these things which are required in theatre as well.
"So you're re-energising skills that they have and then you're adding to that; imagination, creativity, the kind of things that reduce anxiety which so many of them suffer from."