Perthshire eagle's disappearance 'highly suspicious'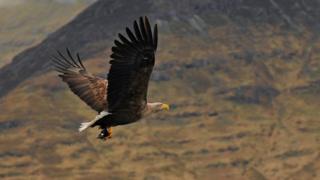 RSPB Scotland has said it is assisting with the search for a tagged white-tailed eagle in Perthshire.
The wildlife charity claimed the eagle disappeared from the Glen Quaich area in "highly suspicious circumstances".
The missing bird was part of a government-sponsored programme to bring white-tailed eagles, also known as sea eagles, back to the east of Scotland.
Scottish Land and Estates, which represents landowners, said anyone with information should call the police.
Following the disappearance, RSPB Scotland repeated its call for grouse shooting estates to be licensed.
The charity's head of species and land management Duncan Orr-Ewing said: "This is the fourth satellite tagged eagle (three golden eagles and now one white-tailed eagle) to disappear in highly suspicious circumstances in this very area since 2014.
"This location around Glen Quaich is dominated by driven grouse moor estates, and has been highlighted previously as a 'black hole' for wildlife crime against raptors.
"A report published by the Scottish government last May, prompted by the regular disappearance of satellite-tagged eagles, provided unequivocal evidence that the sudden disappearance of these birds when reliable tags suddenly stop transmitting is highly suspicious."
Information appeal
A spokesman for Scottish Land and Estates said: "We support the call for anyone with information which could help locate this sea eagle to pass that onto Police Scotland as soon as possible.
"Police and gamekeepers have been searching an area in Perthshire in recent days, with more searches planned for later this week, and we hope that the bird or satellite tag will be located soon."
Mr Orr-Ewing added: "We call on the Scottish government to introduce a robust licensing system for driven grouse shooting with sanctions for removal of licences where criminal patterns of behaviour are established to the satisfaction of the authorities.
"Those that obey the law and conduct their operations within it have nothing to fear from such a regulatory framework."