Preferred site for new Dundee women's mini jail announced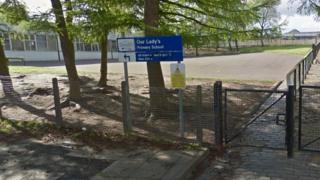 The site of a former Dundee primary school has been announced as the preferred choice for the location of a new mini prison for women.
The Scottish Prison Service (SPS) has chosen Our Lady's RC Primary School which is scheduled for closure and relocation this year.
New community custody units, which will open by 2020, will be built in Dundee and Glasgow's Maryhill district.
The SPS said it would hold community engagement events in Dundee soon.
The units will each hold 20 low risk offenders.
The move is part of a wider plan to change the way women are treated by the criminal justice system.
An SPS spokesman said: "Community engagement is a key priority of this project and now that we have identified a preferred site.
"It is our intention to hold information events in the coming weeks to allow the residents of the local communities the opportunity to see and hear for themselves how we envisage the community custody units working."