Girl, 10, feared she and friend 'would be killed'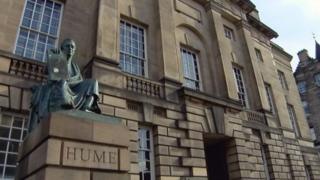 A 10-year-old girl thought a man accused of attempting to abduct her and a friend was going to kill them, a court has heard.
Prosecutors claim John Bermingham tried to abduct the girls "with intent to commit a sexual offence" in Falkirk last May.
Jurors were shown video footage of the schoolgirl being interviewed by police officers hours after the alleged incident.
Mr Bermingham, 51, denies the charges.
The girl told officers that she and a friend, who is the same age, were approached by a male cyclist in a playground.
She said that the man had told her that he had a lost his jacket and needed help to find it.
The girl said that the man offered to give her a "fiver" in return for her help, but she said she did not want to accept his money.
'Crowd control'
The girl said that she and her friend headed with the man towards woodland but another two males approached them.
The child said the two men asked her if she knew the man and when she said she did not, they told her and her friend to leave the scene.
The girl told officers that she was scared and when asked why, she replied: "I just didn't know what going to happen.
"I thought that he was going to take us away and kill us."
In other evidence, PC Craig Primrose said he was later called to the area to become involved in "crowd control" activities.
PC Primrose said: "They had heard rumours that somebody had been trying to take a kid away."
The trial at the High Court in Edinburgh before Lord Beckett continues.